Posted by Cris on 27th Jun 2023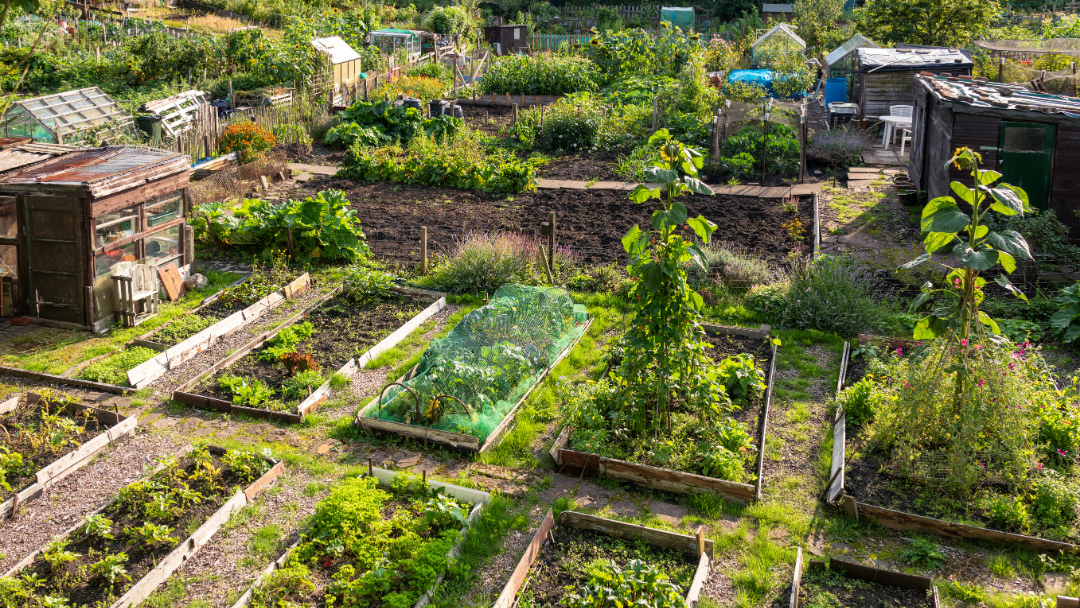 The pandemic saw increased interest in allotments across city locations and it doesn't look like the trend is going anywhere. Google search data shows that interest over the past 12-month period has increased by 12%, reaching 99,870 average monthly searches in the UK.
Should the growing interest in allotments continue, we may see demand outstrip availability. The Land Portal previously made bold claims that, the UK could "run out of land by 2030" with housing, food and energy already competing for space.
In addition, there are noticeable differences in the current number of sites, plots and costs for renting allotments across locations. That's why we decided to take a closer look, using FOI requests to compare data from 36 Metropolitan City Council areas in England (excluding London Boroughs due to high land value and population densities).
In what has already been called the "allotment lottery", some locations appear to better serve their communities than others. However, there are multiple factors at play here with each council managing their city's allotments differently. Some are council run, whilst others are completely independent. Some plots are larger in size and others have higher costs due to water access and the amount of work required to maintain. As such, we've standardised data, as much as reasonably possible for fair comparison between each council area.
Councils with the most Council run plots per 100,000 people
Two South Yorkshire cities were revealed to have amongst the highest number of plots per 100,000 people, coming second and third in the research. Barnsley and Sheffield were revealed to have 785 and 675 plots per 100,000 people respectively.
South Tyneside Borough Council had the most at 1,015, topping the table. The borough was joined in the top five list with fellow Tyne and Wear Councils, North Tyneside and Sunderland.

Councils with the most plots per 100,000 people (Council run and Independents combined)
South Tyneside also topped the table when looking at both Council run and independently run allotments. North Tyneside climbed the table when independents were added to the total, taking them from 4th to 2nd place, with 993 allotment plots per 100,000 people. Swapping places with Barnsley Borough council. Doncaster also entered the top 5 in 3rd place, whilst its South Yorkshire neighbour Sheffield dropped down to 15th.

Councils with the least and most expensive average plot cost
Plot costs vary hugely from one location to another based on many factors. The most expensive Council on our list was Rochdale with the average cost to the nearest GBP being £382. Whereas, in Stockport, tenants are paying on average just £17! This could be down to the average plot size and amenities however, what this does show is that locals could be priced out in Rochdale. Especially with 15 sites in Rochdale currently being so busy that even the waitlists are closed. Our research found that across England, a total of 9 Councils (25%) had one or more closed waitlists and only 14 (39%) had plots immediately available.
Least expensive average plot cost

Most expensive average plot cost

Our research shows that the barriers to accessing allotment plots in England are extremely location dependent. 56% of allotments offer some form of discounts for tenants which will certainly help to give more equal opportunity. Discounts for over 65s are as high as 50% in areas such as Tameside and over 60s in Liverpool for example.
Whilst there are many benefits to having an allotment, the maintenance requires commitment and hard work. We suggest starting with a small plot as you grow your skills, or even making a small space in your garden (should you have one) to test whether it is the right decision for you. Read more on our blog about ways to use cable ties to better utilise the space in your allotment or check out our large cable tie range for any other needs.

Methodology
Google search data via Keywordtool.io 26th June 2023
FOI requests send to 36 Metropolitan Borough Councils in England in May 2023
Full data available upon request