Posted by Tom on 4th Nov 2022
Looking to hang Christmas decorations up but don't want to wreck the halls? Here are five ways to guarantee a damage-free and pet-safe home this Xmas.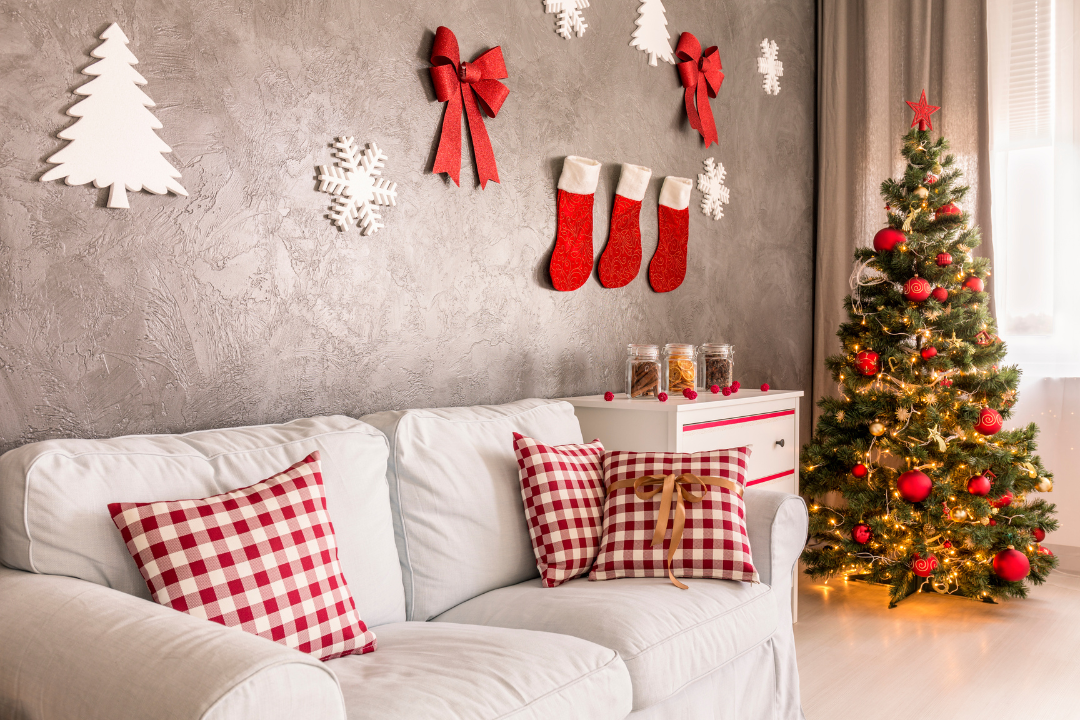 How to guarantee a damage-free Christmas
With Christmas just around the corner, you'll start considering decorating your home to match the festivities. And, after last year's more low-key Christmas, who could blame you for going all out? But, if you're not careful, you could be doing more damage to your property than you think. And that's why we're here to help.
To ensure you don't wreck your halls while decking the halls, we've explored the top ways to enjoy Christmas without fear of mess, disorder, or damage. We also spoke to Lindsay Arliss, Dog Behaviour and Training Specialist at Wood Green, to discuss the best ways to dog-proof your home over the festive period.
Just read on and discover how to deck the halls without wrecking the halls!
How to hang decorations without damaging your walls
Over the festive period, you'll likely be hanging seasonal decorations around the home. But it's important to take steps that ensure you're not damaging your walls in the process.
To really protect your surfaces, get creative and use the following:
Self-adhesive cable clips: To hook hanging decorations up really easily.
Self-adhesive cable ties: To help you tie bulky decorations to your walls, being sturdy enough to hold them in place.
Double-sided tape: This is an effective solution for lighter items, but remember it'll struggle to hold up heavier decorations.
Washi tape: This peels off quite easily, and doesn't damage your decorations (or walls) in the process.
Duct tape: This offers extra strength, but be careful not to take off wall paint or wallpaper when you remove it!
Attach ribbons to your staircase for your Christmas cards
Part of decorating for Christmas usually involves sticking your Christmas cards up on the wall or sticking them around the mirrors in your house. But, this involves a lot of tack, which can leave marks on your precious walls and surfaces.
So this year, get creative and use ribbons to hang up your Christmas cards against your banister! This avoids having to clean up the mess from your walls when the big day is over – and no more washing down tack in the new year!
All you need to do is:
Use craft glue and apply this to the ribbon itself.
Place your Christmas cards in a vertical position against the glue, all the way down to the length of the ribbon.
Lay this newly created 'bunting' on a surface and allow it to cool.
Next, wrap the ribbon around your hallway banister and tie together.
You'll have a sleek-looking Christmas decoration without having to clean up afterwards! However, if you have dogs, you might want to reconsider this decorative method because they might jump up and pull the cards down!
How to make sure your tree doesn't ruin your carpet
A Christmas tree can be a gorgeous addition to your home over the festive period, but it's important to protect your carpets against permanent weight marks. You can achieve this by:
Placing your tree on top of a sturdy piece of plywood.
If you have hardwood flooring, place a non-skid mat underneath your Christmas tree stand (this avoids scratching).
How to hang your Christmas lights safely
Decorating the inside (and outside) of your home with Christmas lights is part of the fun of Christmas. Walking up to your front door to see your house lit up brings that cosy feeling. But how can you hang your Christmas lights safely?
Make sure you're using the correct outdoor lights
You should always check if the Christmas lights you're about to buy are waterproof, and if they meet the industry standards to avoid damage later down the line.
Ensure that your Christmas lights are fastened safely and correctly
Avoid using nails or staples when putting up your Christmas lights this year. Instead, buy (and use) plastic mounting cable clips, or even cable ties to hang them up. This keeps them as secure as can be!
Regularly water your trees during this time
One of the main reasons for Christmas fires is people using high-voltage bulbs next to dried leaves. So, make sure you give your tree(s) a nice drink of water over the festive period! And spritz them with water in between…
Be careful when hanging up your Christmas lights
Make sure you don't hang Christmas lights on your own, and have someone on hand to help while you're hanging them up.
Make sure to use the correct ladder when in need to hang lights up in high places and avoid leaving trip hazards around with the wires as this may also cause injuries.
Install them safely
Try not to connect more than three lights to an extension cord. If you have a complex display which involved putting up several lights, resort to a licensed electrician to help. This means that the installation is done correctly (and safely).
Is it safe to use outdoor Christmas lights inside?
This might seem like an obvious one, but you should always follow what it says on the packaging when it comes to your Christmas lights. If the lights you're using/buying are meant to be hung outside, do exactly that. Don't use them inside; you should only use indoor lights indoors.
Lights that have markings on for outdoor use have been designed for this purpose specifically. This is because they can withstand the colder temperatures outside, but they can also get hotter than indoor lights, which can pose a fire risk inside.
Indoor likes may have the opposite issue if used outside and might not be able to withstand the harsher temperatures of winter.
How to clear up Christmas dinner spillages
Countless families across the UK will be celebrating the build-up to Christmas, and the big day itself, tucking into feasts complete with condiments and sauces. But this means that spillages can easily happen! Fortunately, we've outlined how to clean up the most common Christmas dinner stains.
How to clean up cranberry sauce
After cleaning up the bulk of your cranberry sauce spillage, you'll need to create a solution that stops staining. Mix one tablespoon of washing-up liquid with two cups of cool water, dampen a white cloth, and blot the stain. Repeat these steps until the stain disappears. Once the area is clean of cranberry sauce, go over it with a clean cloth.
How to clean up red wine
Red wine will leave an obvious stain if left untreated for too long, so it's important to attend to spillages right away. Just blot the stain with cool water, before continuing with a clever cleaning concoction made of:
1 tbsp of washing-up liquid
1 tablespoon of white vinegar
2 cups of warm water.
How to clean up gravy
Once you've mopped up as much gravy as you can, attend to the remaining staining by sprinkling baking soda or corn-starch over the affected area.
Leave this to stand for around 15 minutes, before vacuuming up.
If there's any marking left over, combine one tablespoon of washing-up liquid, one tablespoon of white vinegar, and two cups of warm water.
Then, sponge the stain with a white cloth. Sorted!
How to clean up oil
If oil finds its way onto your carpet, don't try to rub the stain out; this can push the oil deeper into your fibres. Instead, remove as much as you can using a dull knife, before sprinkling baking soda or corn-starch over the affected area. You should then be able to vacuum up after around 15 minutes. Phew.
Next, mix one tablespoon of washing-up liquid, one tablespoon of household ammonia, and two cups of hot water, and wet the staining with a sponge.
Finally, blot with a paper towel until the marking has disappeared completely.
How to dog-proof your home this Christmas
Dogs can be excitable at the best of times, but this is heightened over the festive period. So, we spoke to Dog Behaviour and Training Specialist, Lindsay Arliss, who's offered her top tips to dog-proof your home this Christmas.
How to prevent your dog from damaging your decorations
If you have a particularly inquisitive dog, consider putting up a puppy pen around your Christmas tree to restrict access. This protects your presents but also prevents unnecessary falling needles as they brush past.
You should also consider:
Purchasing a slightly smaller Christmas tree than usual, and placing it on a unit or table, out of reach of your curious pooch.
Hanging lights, tinsel, and candles that are out of your doggo's reach.
What to avoid for your dog's safety
If you have a dog, it's important to consider the types of decorations you choose carefully, especially if they tend to chew! For instance, most plastic or metal items can pose a danger if consumed.
If you're opening presents with your dog, you should avoid the following Christmas decorations:
Decorative glitter or ribbons – Instead, opt for plain brown paper or cardboard. They'll have just as much fun tearing open the package, and it's much safer!
Berries from sprigs of holly or mistletoe – These can be toxic for dogs, so we recommend you decorate with artificial versions.
What to do if your dog eats your Christmas decorations
If your dog's eaten any decorations, or any toxic festive foods (mince pies, Christmas pudding, chocolate, etc.), you should give your vet a ring right away. You'll need to let the vet know what your dog has eaten, and from there, they'll guide you through the next steps.
Put these tips into practice…
When you unpack your Christmas decorations for another season of festive magic, make sure our top tips are considered for a damage-free Yuletide! And for even more helpful guidance, check out the latest tips and tricks from us, over on our blog. It'll be a Merry Christmas indeed.