Posted by Cris on 10th Nov 2023
'Tis the season, where homes and workplaces up and down the country get into the festive spirit. As Christmas approaches, retail businesses have already started decorating, hospitality companies are taking festive bookings and warehouse staff are busy getting products off the shelves and posted out to gift givers across the UK.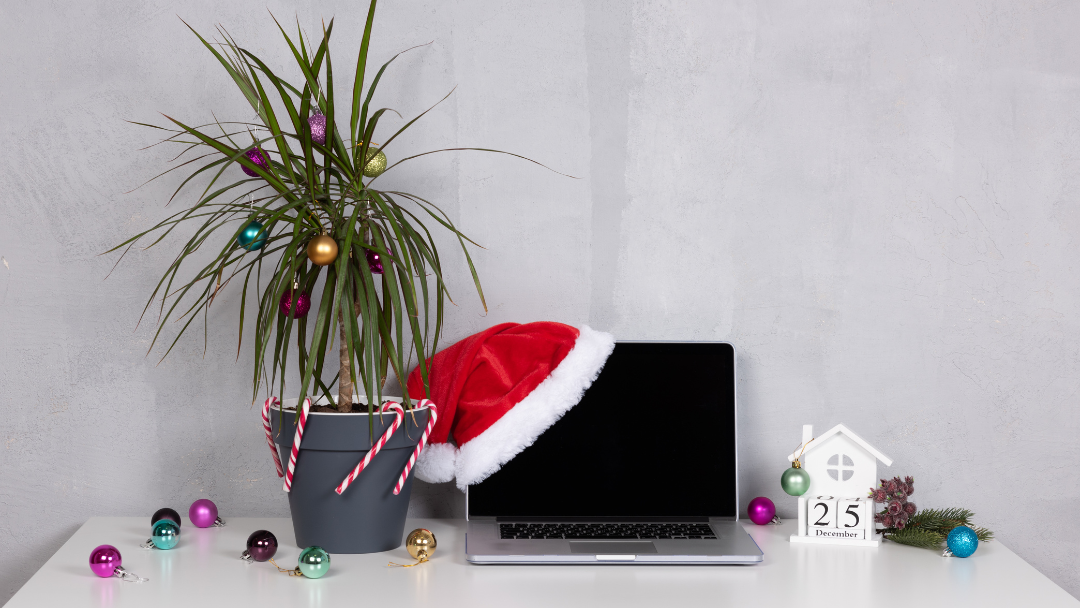 This magical time of year is often the busiest, bringing with it a new set of health and safety challenges. From icy driving conditions and boozy parties, to accidental fires started by faulty fairy lights. There's a range of hazards which might not be included in your existing workplace risk assessments. Which is why our expert guide is here to help, preventing accidents and incidents before they happen.
Why is seasonal health and safety planning important?
Health and safety considerations change throughout the year. Failing to take them seriously can lead to physical harm for your employees and the public, ranging from minor accidents and injuries to more deadly outcomes. Alongside this you could lose out financially from damage to equipment and premises. Delays whilst these are being fixed may result in reduced capacity and even closure. Not to mention, the possibility of fines and reputational damage, impacting your bottom line.
To avoid such damage within the organisation, health and safety needs to become the responsibility of everyone within the business. In order to drive this forward, you will need a representative whose job is to ensure best practice is followed and that staff are educated to a high standard in health and safety procedures. We also recommend getting outside support from an industry professional.
That's why we've teamed up with safety experts, Vicki Sutton, Operations Director at Safety Forward Ltd and Rachel Butler CFIOSH, Head of Health, Safety and Risk at Bruntwood. Both Vicki and Rachel have extensive experience in the field, supporting businesses to remove and reduce risks in a work environment, keeping staff and the public safe.
Ten common hazards at Christmas
It's not only at home where decorations are erected and festive parties hosted. Many employers will encourage their employees to actively celebrate in the workplace. Vicki and Rachel have expanded on some of the key seasonal hazards they see during this time of year.
Vicki Sutton, Operations Director at Safety Forward Ltd said,
"With the Christmas tree going up, plus lights, tinsel and decorations being hung, it is important that risk is assessed and health and safety is not compromised whether working in an office, warehouse, manufacturing or retail environment."
1. Trailing cables and double extension leads
Very often, trailing cables from lights can cause obstructions in the walkways and behind desk space, increasing the risk of trips, falls and accidents. Tripping on light cables could even result in the tree falling over or worse an injury. To avoid these issues, we recommend cables are secured with cable ties, electrical tape or floor coverings.
Vicki acknowledges that hanging fairy lights on the tree is a must but warns, it is a good idea to include them on your PAT testing schedule, these can easily be forgotten when packed away. Before hanging remember to check the cables for breakages too.
Rachel Butler CFIOSH, Head of Health, Safety and Risk at Bruntwood adds,
"Something that I have seen on more than one occasion is extension leads plugged in to extension leads which have resulted in fires! Whilst this may feel like a simple fix when your extension cable doesn't quite reach its desired destination, it is a huge fire hazard and should not be done in any circumstances. Poor cable management such as this leads to overheating and fires.
Fan heaters in particular should be plugged directly into the wall, checked before use and the cable fully extended. Otherwise, a coil could act as a heat mechanism causing fires. If the cable is winding back on itself you could always use electrical tape to keep it straight and in place but, avoid using duct tape as it isn't as heat resistant. Sadly, I have witnessed this and an already over stretched fire brigade had to then attend the workplace, fortunately no one was harmed."
2. Naked flames
Whilst we all love a Christmas candle; they can be an unnecessary risk to your business. Vicki recommends alternatives such as LED candles which bring a similar visual effect. By removing the hazard of the naked flame, you are eliminating this risk of a fire. If it's a Christmassy smell you are trying to achieve, then essential oils used with a diffuser or room sprays make a great alternative.
Although you may have trained fire marshals in the workplace, they are often not trained in the use of a fire extinguisher. The same applies at home, although, most homes do not have fire extinguishers available and may result in the use of water, which can then cause further issues where electrics are added into the equation. If you do use candles at home, then ensure they are not left unattended and are diffused before leaving the house or going to bed.
3. Unsuitable and unsecure decorations
Tinsel and foil ceiling decorations are made from highly flammable materials. When hung on the ceiling or walls they are at risk from falling, this combined with the flame from the candle or fireplace could result in a dangerous fire. Therefore, ensuring that decorations are positioned so they cannot come into contact with a flame if they fall is a good idea.
In addition, Vicki highlights that decorations are usually hung with sticky tape or blue tac which over a period of time can become unreliable. Do not hang heavy decorations from the ceiling. If they fall they will likely result in an injury and remember, many baubles are fragile and so break upon falling, leaving you with broken glass. Reduce these risks by replacing with lightweight and shatterproof decorations, using hangers that are secure and not likely to snap e.g cotton and cable ties.
4. Outdoor decor
Alongside indoor décor, many homes and businesses will take Christmas to the exterior of the building. Vicki advises,
"Do not run extension cables under carpets, through windows or through doorways and across driveways. December is likely to be a wet month and cable connections should be kept above ground and away from puddles. Any exterior decoration should be plugged into Ground Fault (GFCI) protected outlets and ALWAYS check the cables for damage before use and never daisy chain extension leads to reach outdoor locations."
5. Swivel chairs and ladders
Something often missed by employers and employees is the risk involved in the set up itself. When decorations come out of storage (whether is from the loft or storage area at work) remember to check and ask… Are the ladders suitable and checks been carried out? Is there someone available to hand the boxes to?
Never, use a swivel chair from the office as you will more than likely end up falling. It's all too easy to want to save time finding and setting up ladders or steps however, standing on a moving platform on wheels is highly likely to cause an injury.
6. Tree location and maintenance
Operations director, Vicki recognises that the tree can make Christmas yet, this shouldn't come at the expense of safety. Choose an area where you are not going to obstruct your safety signage, fire exits, fire extinguishers or means of raising the fire alarm.
You should also check, whether the tree needs to be secured and whether it is likely to be knocked over. The larger the tree the harder the fall and not only is there a risk of personal injury but also with a potential fire from the fairly lights.
Never position the tree close to a candle or heat source and if the tree is real, prevent the needles drying out and keep it watered. When needles dry out, they become more flammable. Tree lights left on all day get hot, so always ensure they are turned off and unplugged before leaving either the home or workplace.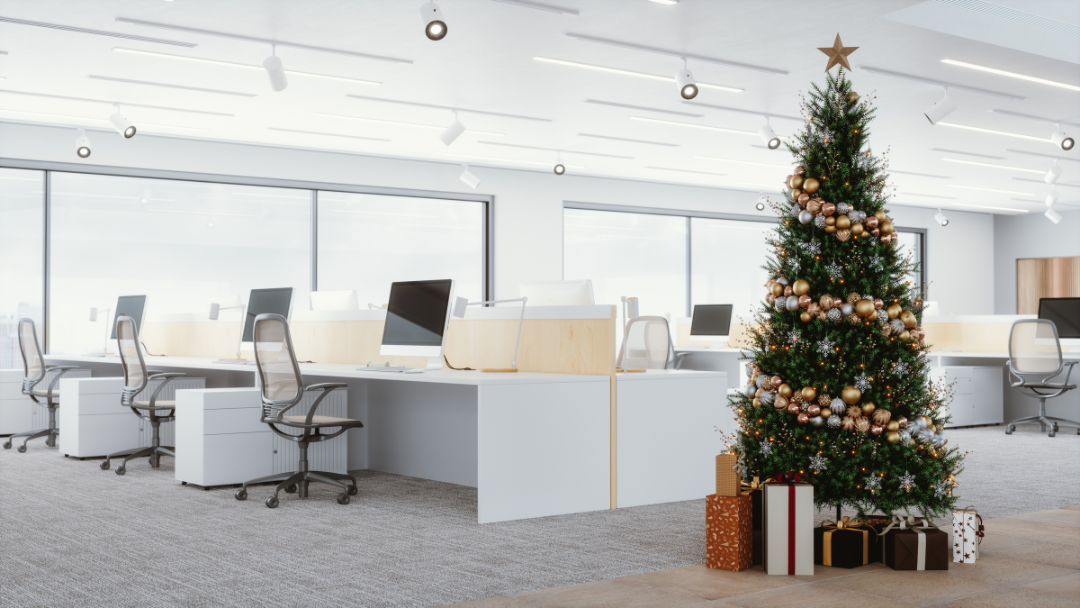 7. Winter weather conditions
Rachel Butler CFIOSH, Head of Health, Safety and Risk at Bruntwood comments,
"We certainly see an increase in the number of incidents that occur this time of year in our industry, especially as people travel between home and work. This is largely due to weather conditions which can be icy, cold and wet, combined with dark nights and mornings.
Understandably, added travel pressures can be stressors, whether as a professional driver or a commuter. Which is why it is important for businesses to have a larger focus on health and safety during the festive period."
According to Rachel, the construction industry or any other trades expected to work outdoors are particularly affected by the period and more should be done to ensure workers are kept safe and warm. Their wellbeing should be a business priority.
8. Food hygiene and alcohol consumption
We all want to enjoy Christmas, perhaps with a few nibbles and glass of bubbly on the last working day. However, please remember your employees may be operating plant machinery and others may be driving home afterwards to enjoy this time with their family. Vicki urges employers to consider the implications of alcohol in the workplace and their moral duty to ensure everyone goes home safely from work.
When serving food, consider its preparation, storage and how it is shared. Cover food or keep it refrigerated and never leave it out for long periods of time to prevent bacteria growth. You can find plenty of advice on this topic using resources such as the Food Standards Agency and industry blogs.
9. Christmas time complacency
With people's minds usually in other places or looking forward to their Christmas break, Rachel finds that people can become complacent when it comes to standard safety protocols. No one means to have accidents, but weather conditions often lead to increased numbers of slips, trips and falls. Ultimately the majority of the workforce are rushing to get finished and as a result corners are cut and health and safety can quite often be the first thing to go out of the window.
Rachel said, "This is not 'Elf and Safety gone mad!" But hopefully highlighting some hazards will minimise risk. For example, basic housekeeping such as, not blocking fire escapes or routes with boxes from decorations or a clear out of the cupboard, PA testing dodgy looking fairy lights and not overloading extension leads.
10. Security incidents
During the festive season, Rachel mentions the industry has noted an upward trend in the number of security incidents across retail schemes, attributing this in part to the cost of living crisis.
In addition, they tend to see more general accidents as a result of extra footfall. This too is the same for leisure, food and beverage industries, who are exposed to Christmas party nights which are mostly fun, but should come with extra care.
An office working environment remains the least at risk, however special attention should be paid to ensure it remains that way. Safety needs to be a priority!
Prevention
Whilst it isn't possible to prevent every accident or injury at work, businesses must give their attention to the hazards mentioned above. Adequate and suitable risk assessments must be carried out and kept up to date for all activities and compliance for inspections. This includes, fire alarm, emergency lighting and even PAT testing of electrical equipment. More information can be found on the HSE website.
Alongside this, Rachel recommends that employees have a robust reporting system for accidents and incidents. It is important that the business can learn from them, no matter how insignificant they might seem.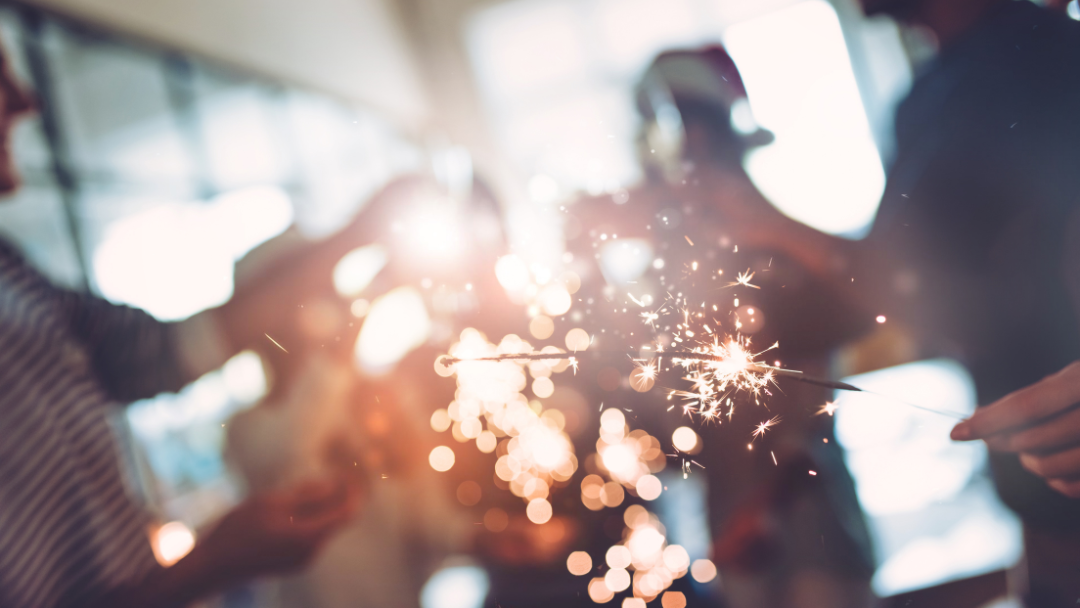 Going home safely at the end of a work day is the most important thing, so that we can all spend the festive period without mishap or injury! For those looking to review and address their seasonal activities and any hazards they may pose, view our blog for health and safety tips. You can also explore our vast product range of useful fastenings, floor covers and useful supplies.