Posted by Tom on 22nd Dec 2022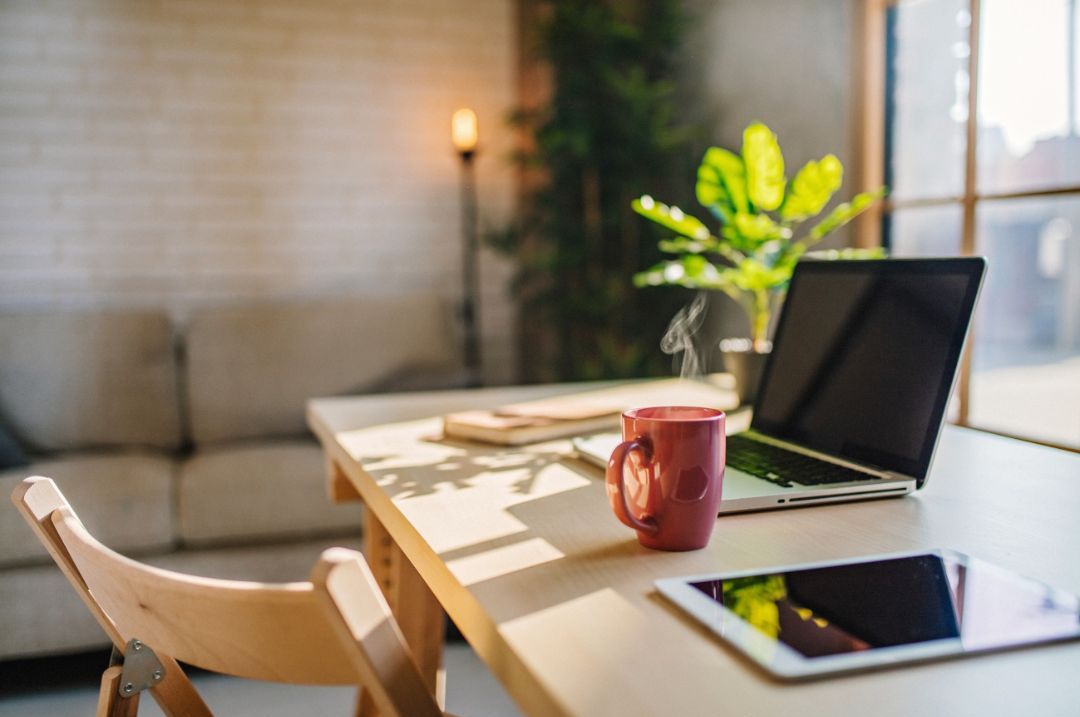 In recent years, the term "office" has changed its meaning quite significantly, with work-from-home culture becoming the norm after the COVID-19 pandemic made this more accessible. This is evident from Google searches, with the search term, 'how to improve hybrid working' increasing by as much as 600%!
And with this new way of working being more popular than ever, we started looking for inspiration to boost peoples' home-working morale, leading us to the wonderful world of interiors. After all, your office décor plays a key role in your productivity and general attitude towards work, whether you work from home now and again as a hybrid worker or remote work all year long.
So, our DIY expert – Kirstie Batty, who's Head of Merchandising here at GTSE, worked alongside two brilliant experts, collating insights on what will be big for home office décor, come 2023.
But what are the forecasted 2023 home office trends? Well, the predictions are in. Just read on to get clued up on the top, upcoming office interior trends. And find out everything from the wall colours taking offices by storm to different lighting trends…
Viva Magenta and raspberry-coloured walls will be big
You can incorporate a whole host of exciting paint colours into your office walls in 2023. Simply get your paintbrushes ready so you can adhere to the latest interior trends! But what shades and tones should you be stocking up on to uplift and upkeep motivation levels?
According to Ryan McDonough at Myjobquote.co.uk, Pantone's 2023 Colour of the Year – Viva Magenta - will be a winning shade, because "it's great for invigorating home offices and boosting your energy." With a seamless balance of both cool and warm shades through the crimson red tones this colour presents, adding this cheery yet sophisticated colour to your office means you'll be ready to take on each day.
And "raspberry is also a colour that's tipped to be big in 2023" – so it seems fuller-bodied tones are breaking the cool grey and sharp white tones you usually see in a home office space, which is pretty exciting. However, Ryan said "be careful as the fiery red of side of this shade may not suit a home office. Especially if you want to keep it calm and stress-free."
H3: Striking blue walls will be a big hit, too
"Blues are going to be big in 2023" too says Ryan. So, incorporating this colour into your office space is a great idea, "especially if you want to keep it calm and stress-free", as some people prefer softer colours to more striking painted walls, like raspberry and Pantone's Colour of the Year.
Although, he says if you're opting for this colour, "stick to a vibrant, electric blue [as] blue is a calming colour that's easy on the eye, but it may be a bit too laidback for productive home offices."
Upcycled pieces will play a key part in 2023 office design
Switch out neat plant pots for more rustic ones.
Painting the wall behind you a bold colour, to add vibrancy to those work Zoom calls.
Harsh lighting is removed.
Reduces frustrating shadows that can be problematic/distracting when you're working.
Adds a cosy, Hygge-like office aesthetic.
Good lighting makes for good motivation levels.
Rejig your office furniture to allow for natural light
Lucy Henderson, Head of Design at My Bespoke Room says, "It's great to have natural light in a home office space but not ideal to have a window directly behind your screen, as you will be fighting against the natural light behind your screen while looking at your screen."
In fact, she's predicted that in 2023, home workers will be moving office furniture around, to welcome in more natural light, consequently boosting morale. So, position your desk next to a window but against a wall to benefit from the natural light, because this provides much easier access to a nearby window.
As Lucy said, this is "great for connecting you to the outside, but [also] easier on your eyes," which is really important for avoiding that mid-afternoon slump after too much screen exposure!
Keep cables hidden for a minimalist effect
To keep your office as neat and mess-free as possible in 2023, ensuring all of your laptop and monitor leads are fastened together using trusty cable ties is a must, especially with next year's office interior trends channelling minimalistic, Scandi décor styles.
Alternatively, if your cables/wires for your trusty technology are too thick for cable ties, add a split conduit to your office. This cable management tool keeps everything that's plugged in looking as discreet as possible, achieving that minimalistic office vibe effortlessly! And getting your head down in a clean, tangle-free workspace is the best thing you can do to make sure you don't distract yourself while working (by tidying up)!
Discover more interior insights and more
Well, now you're equipped with office trends for 2023, you can incorporate these into your home office nice and early, to start setting trends yourself. And if you're itching to find new interior tips, future trend predictions or inspiration for your next home project, head over to our blog.
Methodology
Kirstie Batty, DIY expert and Head of Merchandising at GTSE.co.uk,teamed up with interior specialists to reveal 2023's home office trends that are guaranteed to embrace style and productivity.
Predictions were sourced from Lucy Henderson, Head of Design at My Bespoke Room and Ryan McDonough from Myjobquote.co.uk to gather insights on changing home office interior predictions for 2023. To compare popular, upcoming office changes, GTSE asked these experts the same questions about future predictions for 2023 for those working from home, whether remotely or as part of a hybrid working model.