Posted by Tom on 31st May 2021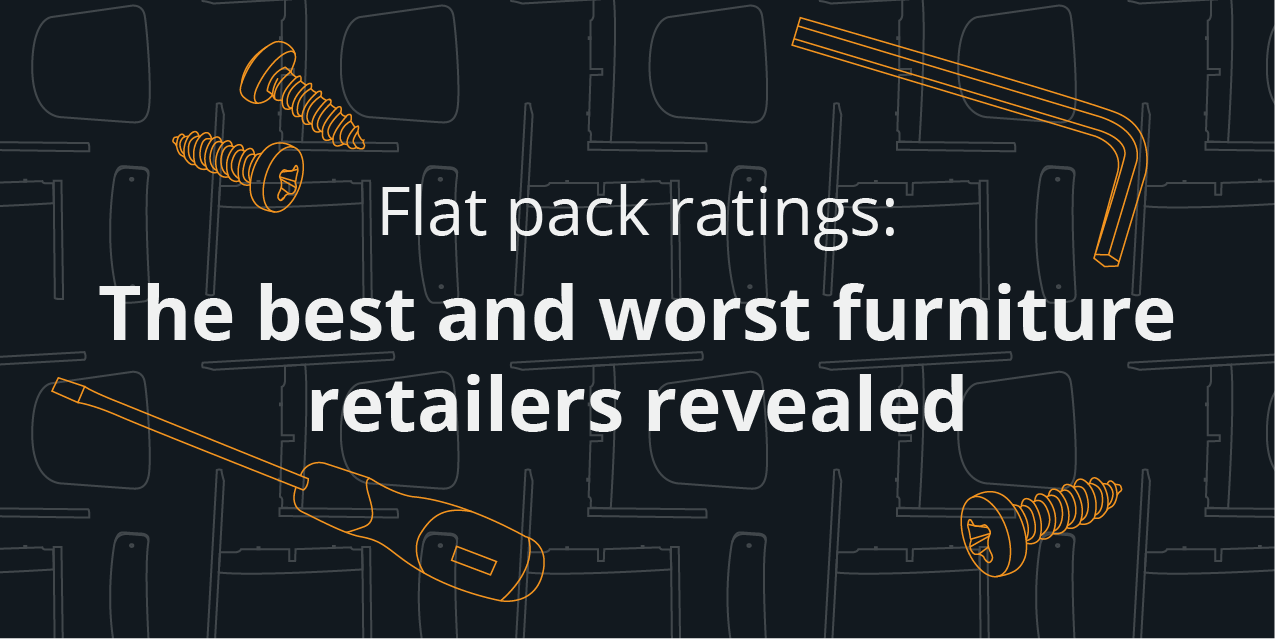 Flat pack ratings: The best and worst furniture retailers revealed

With countless Brits spending the last year working remotely or furloughed and coming to realise that their home surroundings could do with a little love devotion, it's no surprise that DIY has become increasingly popular across the UK. In fact, March 2020 saw a 14.7% YoY rise in tools and equipment sales, while building materials and paint purchases rose by 31.4% and 47.1%, respectively. But, as more of us are choosing to 'do it ourselves', which big brands are offering the best experience – and which are offering the worst?
Using social listening to capture disgruntled posts across social media, we've been able to determine which established retailers are receiving the most negative attention online for their flat pack furniture. Some of the results might surprise you!
Which UK furniture brand received the biggest backlash last year?
Analysing the rate of negative social media posts for each of 16 brands' flat pack offerings, it's evident that online retailer Very is considered by Brits to be the worst for self-assembled furniture. In fact, the brand received an astounding 30,332 dissatisfied social reviews over the last 12-month period alone.
With Very averaging a staggering 83 bad reviews a day, it's difficult to pinpoint just one source of frustration. However, the main reasons are likely to be the absence of well-articulated assembly instructions or the respective furniture taking far too long to put together. Alternatively, customers may have suffered bad customer service, or a sluggish online shopping experience, which prompted them to express their grief to the masses through their social media platforms.
Not far behind, we have IKEA. Despite being famed worldwide for its flat pack offering, the Swede giant registered a whopping 28,494 dissatisfied comments across social media platforms across the last year – that's nearly 550 negative reviews every single week, just from UK customers.
High-street chain M&S received 12,013 negative social media posts in the same period, which, while considerably less than the top two, still placed it as the third worst flat pack retailer. Closely behind, The Cotswold Company registered 10,065 comments from discontented customers. Positioned as fifth worst flat pack brand, Oak World received as many as 7,647 critical comments during the last year, while B&Q (6,684), Amazon (3,708), and Wayfair (3,527) also all find themselves within the bottom half according to Brits.
Revealed: the UK's best flat-pack furniture brands
While there are a host of flat pack furniture brands who has received thousands of negative social media comments in the last year, reliable household favourite Next has, in contrast, performed astoundingly well; with as few as 16 customers heading to social media to blast the brand over the last 12 months, Next takes the crown as the UK's best flat pack retailer.
Receiving just 73 negative social media comments, Wilko claims a second place among our ranking, while Dunelm registered a similarly low 91 within the last year. Meanwhile, Wickes (225) and Habitat (412) rank fourth and fifth, respectively. Rounding up the top half, and completing the UK's best eight flat pack retailers, the chasing pack include Argos (527), Oak Furnitureland (1,351), and auction website eBay (1,953).
Methodology
Using Linkfluence data for the last 12 months between May 2020 – May 2021, we've captured the number of negative social media posts aimed at 16 of the UK's biggest and most famous high street and online retailers, in relation to flat pack furniture purchases. These include: Very, IKEA, M&S, The Cotswold Company, Oak World, B&Q, Amazon, Wayfair, eBay, Oak Furnitureland, Argos, Habitat, Wickes, Dunelm, Wilko, and Next.
Over the last year, the UK has developed a love affair with everything DIY, so it's no surprise that there's noise on social media when a flat pack doesn't pass muster. Discover how we can help you with all your DIY requirements, from Cable management to tape.