Posted by Tom on 13th Jul 2021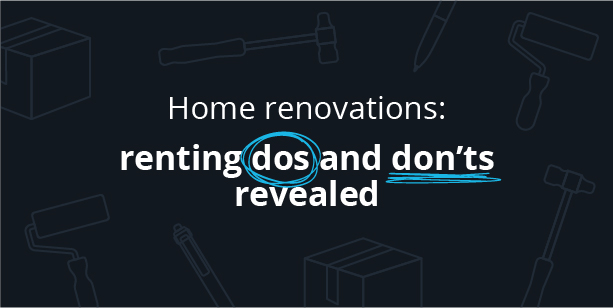 The average monthly rental rate in the UK is £821 – that's an increase of 36% over the last 10 years. With 4.4 million properties privately rented across the country, for many, it's a means to an end whilst they're waiting to get on the property ladder.
But whether your goal is to buy your own home, or you prefer the flexibility that renting offers, it's often a long-term solution, which is why the questions surrounding home renovations of rental properties keep arising.
If you're about to move into a rented home and are wondering whether you're allowed to paint the walls or fit some blinds, you're not alone. We spoke to Chris Salmon, Operations Director at property law specialists Quittance, and Helen Hollingsworth, lettings partner at Bramleys to discover which home renovations you can and can't do when you're living in a rental property.
Painting the walls
Whilst all rental agreements are different unless it explicitly says you cannot paint the walls, you should be able to do so, providing you agree to paint them back to their original colour before you move out. If you decide to do this, check the colour choices with your landlord, and find out who will pay for these changes.
When painting your walls, opting for oil-based paint in a light shade, as it will be much easier to paint back over.
Drilling holes in the wall
Whilst there's no rule against this, if you do decide to drill holes in the walls to put up pictures, you'll need to fill them in before you leave – in which case, you'll need to make sure you have the correct shade of paint.
The alternative solution is to speak to your landlord and agree on the number and position of holes you want to drill, and then if they're happy for them to be left for the next person, they can stay, or otherwise, you pay for the repairs or use part of your deposit to pay for them.
Ripping up and fitting new carpets
You should not touch floorings without your landlord's permission. Often, it's not even worth it if you're not going to spend much time renting the property anyway; but if you do decide you want to put carpets in, then your landlord may be more willing to agree if they can see samples of your chosen carpet and know that a qualified tradesman will be laying it, rather than it being treated as a DIY project.
Fitting blinds
Again, this is something you should get approval from the landlord beforehand – especially because when it comes to removing them at the end of the tenancy, the fixings could cause damage to the walls.
Removing furniture in a furnished property
If you're moving into a fully furnished property, there may be certain pieces you don't like or want to replace with your own furniture. The one thing you can't do is get rid of it, because it's owned by the landlord.
However, you can ask your landlord for any local storage space they know of (but you'll need to ensure the furniture is returned in the same condition); and provided that the removal of the furniture doesn't result in damage to the property, you should be fine to do so.
Other things landlords check
Inventories are the main way for tenants and landlords to see if the condition of the property is in the same condition as it was when it was first rented.
Scratched paintwork and stains on the walls are one of the first things a landlord will check. To avoid any deductions from your deposit, wash your walls with warm, soapy water.
They'll also check for potential damage to fixtures and fittings like drawers, tables, and wardrobes; and see how clean appliances are, such as the oven, cooker, and hood – so make sure you give them a deep clean before you leave. If you have a garden, landlords will also check to see if it's been kept tidy.
Make sure that you hand your keys in on time, and that all rental payments are up to date, to ensure a smooth moving out process.
If you're looking to move into a rental property and either have a pet or want to adopt one, you'll need to speak to your landlord first. New legislation has recently been passed that stops a blanket ban on pets, meaning landlords must have a good reason to say no. If they do say yes, you should make sure your contract is up-to-date and relevant, to reflect that.
Ultimately, if you speak to your landlord beforehand, you should be fine to carry out most minor home renovations, provided they're returned to normal when you move out. For more rental tips or home DIY trends, head on over to our blog.